German General Consul visits Milford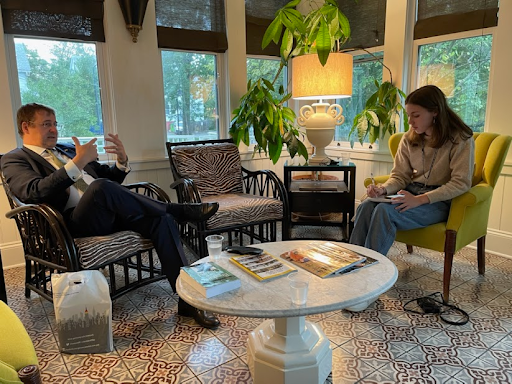 German Consul General David Gill has had a plethora of accomplishments during his job as Consulate General. His main job is working for the German Embassy encompassing states and provinces such as New York, Connecticut, Pennsylvania and Bermuda. 
As a Consulate General, he works closely with German representatives, helps to write out paperwork, such as passports and birth certificates, as well as give out VISAs for travelers. 
Another important part of his job is to "explain Germany and understand America." This means helping to connect Germans and Americans, create opportunities to establish relationships and inform people about Germany, especially politically.
The Consul General was inspired to pursue this job as he was always interested in international relations and foreign countries. He grew up in east Germany where he was not allowed to leave aside to visit a few countries, so he longed to travel and allow others to travel in the future. 
Consul General Gill's journey to his current position was not typical. He did not receive the normal education required to become a Consulate General. Instead, he was recommended by the German President, Joachim Gauck, whom he worked with for several years to dissolve the Stasi, the German secret police associated with Communist government. 
One of the General Consulate's favorite parts of his job is that his job is different everyday, and it allows him to do "many weird and great things." He often attends art exhibits that focus on or highlight German artists. Most recently he was the Grand Marshal during the Steuben Parade, a German parade named after a general who fought the British. 
Though he has many different rewarding and interesting aspects to his job, the most rewarding part of his job is to reunite Holocaust survivers with their homeland. He believes it is imperative for them to connect with their roots as well as to see the "Germany of today."
"It is humble to do this but it is very important," he said.