FCCLA students attend regional meeting in Reading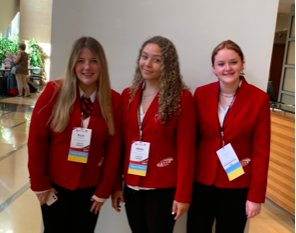 On Oct. 20, the members of the FCCLA club took a day trip to a regional meeting in Reading, Pennsylvania. The meeting was about four hours and was a great opportunity for students from all over Pennsylvania who participate in FCCLA to meet each other and share their common interests.
An opening ceremony was held and students were able to meet state leaders from across the state. Students participated in fun activities such as an Instagram hashtag challenge and were given the opportunity to talk about their future plans.
"It's [going to the conference] really great…and it's good for them [the students]," FCCLA adviser Jillian Feese said.
Open to all grade levels, FCCLA is a club that teaches students leadership, teamwork and public speaking skills. Mrs. Feese explains that students can either work in pairs or teams of three and are given tasks to complete. The tasks are related to certain categories such as hospitality, tourism, menu planning, early childhood education, entrepreneurship and others that fall under the umbrella of family and consumer science.
Students who are interested have the opportunity to compete at the Pennsylvania state competition in March, however, Mrs. Feese explained that students are not required to compete.