Expert violinist Markov to perform with DDMS student percussionists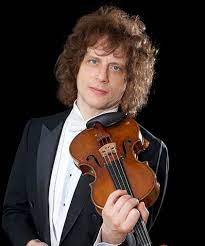 In an event sponsored by the Kindred Spirits Arts Programs and Greater Pike Community Foundation, professional musician Alexander Markov will be visiting Milford on March 16 to play the violin. This concert is free and will be at the Dingman Delaware Middle School at 7 P.M.. Some pieces will include student percussionists as accompaniments to Markov.
On the following day after the concert, Mr. Markov will coach students on how to improve their musicality.
Learning violin from his father at a young age, Mr. Markov has a plethora of musical achievements including being awarded the Avery Fisher Career Grant, winning gold at the Paganini International Violin Competition and featuring as a soloist in some of the most renowned orchestras. 
"Markov is a unique personality who is totally brilliant in a classical repertoire and plays rock music on a six-string golden electric violin," Yosef Feigelson, KSAP founder and artistic director, said. "I think his wide appeal should make lots of people very excited."