FCCLA gold, silver winners advance to Nationals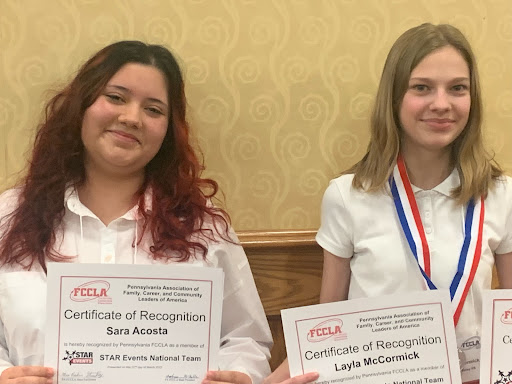 The Family Career and Community Leaders of America (FCCLA) competed at States in Silver Springs, Pennsylvania on March 21. 9 out of the 20 members of the club received gold or silver and will be advancing to Nationals in Denver, Colorado. 
Senior Michael Stanbro won gold in culinary arts where he was given nine recipes and created a dish. His dish consisted of chicken and gremolata with sides of rice pilaf, green beans and a garden salad. Sophomores Kasia Green, Riley Mckenzie and Samantha Stead competed in resurface and design where they created a dog bed out of old sweatshirts and received silver. Sophomores Ceanna Williams, Sara Gagnon and Kate Tamplin competed together in entrepreneurship. They developed a new small business called "Everybody" and prepared a portfolio containing a business description, personnel management, funding sources and developed a budget. This project led them to winning gold. The next two competitors were freshmen Layla McCormick and Sara Acosta, they competed in hospitality and tourism. The two revamped the Woodlock areas and won silver. 
On the early childhood education side, senior Angelique Glamann created a resource bin and used it to create a lesson that accommodated students with disabilities. Senior Abby Lloyd created and taught a lesson for second graders that involved the importance of locating the main idea and key details. She then made a portfolio and presented it to judges. Seniors Arianna Lewis and Kailyn Wood made a 48-page portfolio about goals and concerns about different nutritional
topics tracking. All four placed first and took home the gold. All gold and silver winners will be advancing to Nationals July 1-7. 
"All 20 members of FCCLA worked very hard and practiced two times a week since October," adviser Mrs. Jill Feese said. "I am very proud of the accomplishments that were made, and I look forward to going to Denver who are moving onto Nationals."