Train derailment in Ohio causes pollution scare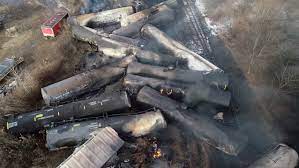 Ohio has been experiencing a concerning surge in impurities in the air due to a derailment of a train in the city of East Palestine on Feb. 3. Local residents fear for their health, and authorities have created evacuation plans in case the situation becomes worse.
Analyzing the accident more in-depth, 38 cars derailed and an additional 12 were damaged by the fire that ensued according to The National Transportation Safety Board. However, the biggest issue the authorities currently face is the potential environmental hazards that can be caused by the accident. This particular train was transporting toxic chemicals in 20 of its rail cars which included vinyl chloride, butyl acrylate, ethylhexyl acrylate and ethylene glycol monobutyl. Some of these chemicals spilled into bodies of water, seeped into the ground and/or dissipated into the air which would cause mass sickness to the local residents who use these natural resources. The authorities are currently carrying out controlled releases of the toxic fumes to mitigate the effect of pollution.
According to the Environmental Protection Agency, they monitored the area and detected pollution in several of the Ohio River headwaters but concluded that the water treatment plants should filter them out. Locals are still uneasy; more than 1500 residents evacuated and facilities were closed.
As clean up continues, there is growing concern over the possibility that the pollution may reach neighboring states of Indiana and Pennsylvania.