Hurricane Ian creates destruction, leaves nearly three dozen dead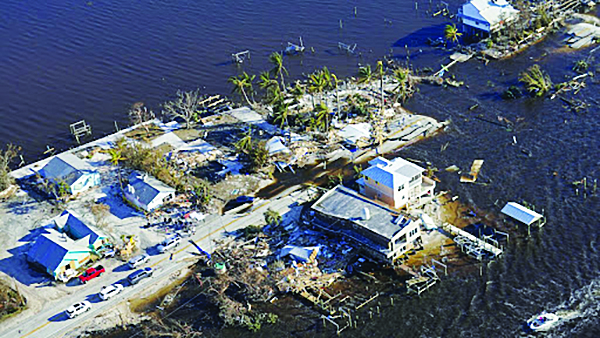 This fall, parts of the United States and Central America have been and still are being ravaged and left devastated by the damage done by tropical storm Hurricane Ian. The continuous need for support from the U.S. government and rescue crews to try and stagnate the rising death toll of the storm is leading many to believe that this is one of the strongest storms to ever hit the United States.
Hurricane Ian, after hitting Cuba, reached the United States in Florida and then South Carolina as a major category four hurricane on Sept. 28. The highest reported wind gust was 128 mph, as recorded by a WeatherFlow station in Grove City, Florida.
The storm has caused homes, boats and cars to be destroyed or washed away, and as of Oct. 1, has been correlated to the deaths of 30 people. Tensions have been running high as fuel is in short supply and just over 1.2 million people remained without power in Florida alone, according to PowerOutage.US.
"We heard about fights at the gas station, people getting knocked out, stuff like that," national reporter Bill Wadell said. "Lindsey Walsh, a resident here, said she walked four miles with a friend in order to fill up a single gas canister."
Hurricane Ian's rapid intensification made the storm especially more difficult to deal with. Hurricane Ian hit Florida so quickly that most civilians did not even have time to evacuate. 
Although Hurricane Ian downgraded into a post-tropical cyclone on Oct. 1 as it headed into North Carolina, U.S. President Joe Biden declared a national state of emergency.
The devastating scenes of destruction in Florida alone will prove to be catastrophic and long-lasting, and now students can donate to the Red Cross to help those in need.
Mr. Barnett, someone personally affected by the storm, will be collecting donations from his students through the rest of this week, and then he will match the amount donated. Anyone other than his students can make a donation as well, but it will likely not be matched.