43 FBLA competitors qualify for state conference in Region 22 Leadership Conference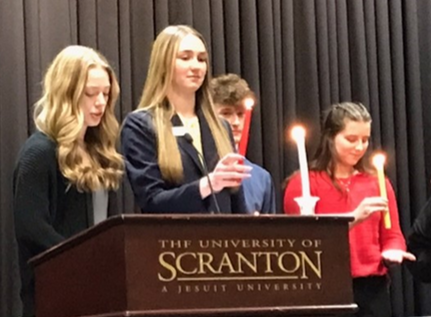 FBLA members competed at the Region 22 Leadership Conference over a two-day period on Jan. 10 and 11, with many students qualifying for the FBLA State Leadership Conference and even receiving first place in their respective categories. The students took part in academic competitions such as exams, speeches and presentations against other schools in the Region. The students can also compete for officer, secretary and president positions, with junior Mackenzie Donald being sworn in as the FBLA Region 22 President at the conference.
On the first day, six students received first place and 10 students qualified for States. Mackenzie and junior Cassandra Joyce won first place in Broadcast Journalism, junior Emma Allen in Impromptu Speaking, freshman Vidhi Patel in Introduction to Public Speaking and freshmen Kimberly Smyser and Emma Simmons in Publication Design. 
"It was a great experience where members got to learn new things. Seeing people from previous competitions was also very fun," Mackenzie said. 
Senior Haley Troup and sophomore Anna Vogel received second place in Graphic Design, and sophomores Maya Sussman and Michelle Zakharova placed second in Introduction to Social Media Strategy. 
On the second day, 29 members qualified for states, including four first place finishers. The first place winners were junior Anya Fitzgerald in Computer Applications, senior Chris Borges in Cyber Security, freshman Emily Warfsman in Introduction to Information Technology and junior Michaela Velez in Organizational Leadership. 
Freshman Savannah Van Orden received second place in Introduction to Business Communications, and the group made up of freshmen Dominic Agron, Elizabeth Bailey, Joseph Benavides and Carl Wallenburg received second place in Parliamentary Procedure.
"Our membership performed really well during our events. We look forward to attending states in Hershey this April," Haley said.
Several students were also named state only event qualifiers. Sophomores Mia Thompson and Queenie Yang for Business Plan, juniors Ritesh Patel and Samuel Yost for Coding and Programming, juniors Ben Bailor and Karter Peereboom for Computer Game and Simulation Programming, junior Eunice Choi for Digital Animation, Soren Allen for Digital Video Production, senior Kiley Huttman for Public Service Announcement, senior Rebecca McFeely for Electronic Career Portfolio, freshmen Ava Troup and Zoe Sutton for E-Business, juniors Olivia Choi and Celina Koh for Data Analysis, juniors Andrew Williams and Scarlett Weir for Mobile Applications and freshman Grace Myers for Website Design.