Physical education students utilize multi-purpose room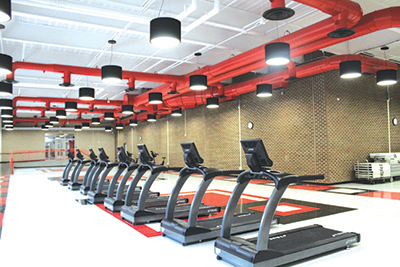 Since last school year, students and staff have been waiting for the new multi-purpose room to be complete. The new space, located by the pool entrance to the building, will be used for working out and hosting special events. Physical education students are utilizing the room as well.
Gym classes are going to have a schedule where different periods will be using the room on different days.
"If we ever needed the space, now we have the flexibility to use it," director of secondary education Dr. Brian Blaum said.
Though this room can be used for a variety of reasons, a workout space will be the primary function. After school, a monitor will be present so students can do their workout of choice.
"After COVID-19, obesity and unhealthiness has risen, and we wanted to help students and give them somewhere to go," Dr. Blaum said.
The purpose for building the new room is to make it accessible to as many people as possible. DV ACE is a program for the Delaware Valley community. Through this program, community members will be able to access the room and the equipment.
Currently, the room has basic gym equipment to get things started and ready for students to use. As of right now there are treadmills, exercise bikes and Cybex equipment. More equipment will be available as the year progresses.
"We're trying to use it for as many things as possible but at the same time not having to move things out and back in every day," Dr. Blaum said.
The room is over 4,000 square feet, and the L-shaped portion of the room will be left for open space. This room will eventually be open after school for students to use.
"Hopefully at some point it will be open to the public, just not during the school day," Dr. Blaum said.