DV FBLA: AMERICAN ENTERPRISE PROJECT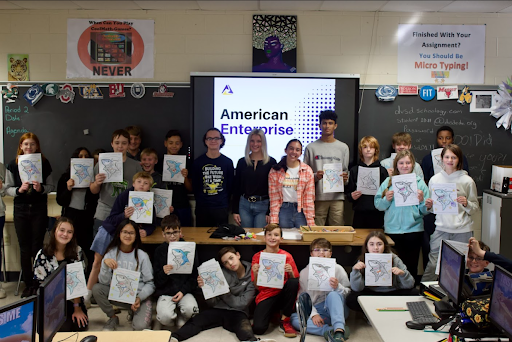 Delaware Valley High School's FBLA chapter went to the DV middle school during the week of Nov. 8 – Nov. 15. Kiley Huttman, Andrew Williams, Ritesh Patel and several members of DV FBLA chapter led the American Enterprise Day project. 
The goal of this project was to teach middle school students about the free enterprise system in the United States. They were able to inform approximately the entire 7th grade, which consisted of 150 students with their project. The members constructed lesson plans on how to start a business, form ideas and described entrepreneurship. 
On Nov. 8, high school leaders created and presented a originally made workbook as a guide for middle school students to follow. Middle schoolers were to create a business or product and present it in a shark tank way. Throughout the week the middle school students had their whole class period to plan and prepare for the high school students to come back. 
On Nov. 15, middle school students presented their findings. The high schoolers were impressed by the prototypes and startup companies they came up with. The goal of the project was successfully achieved. 
Prior to the lessons, the middle school students recorded below average grades in the assessment that is meant to test students' knowledge in American enterprise. After the lessons, the accuracy rate showed significant improvement. 
The whole DV FBLA chapter pitched in to make it a success.